Outdoor EXPO NEC 2022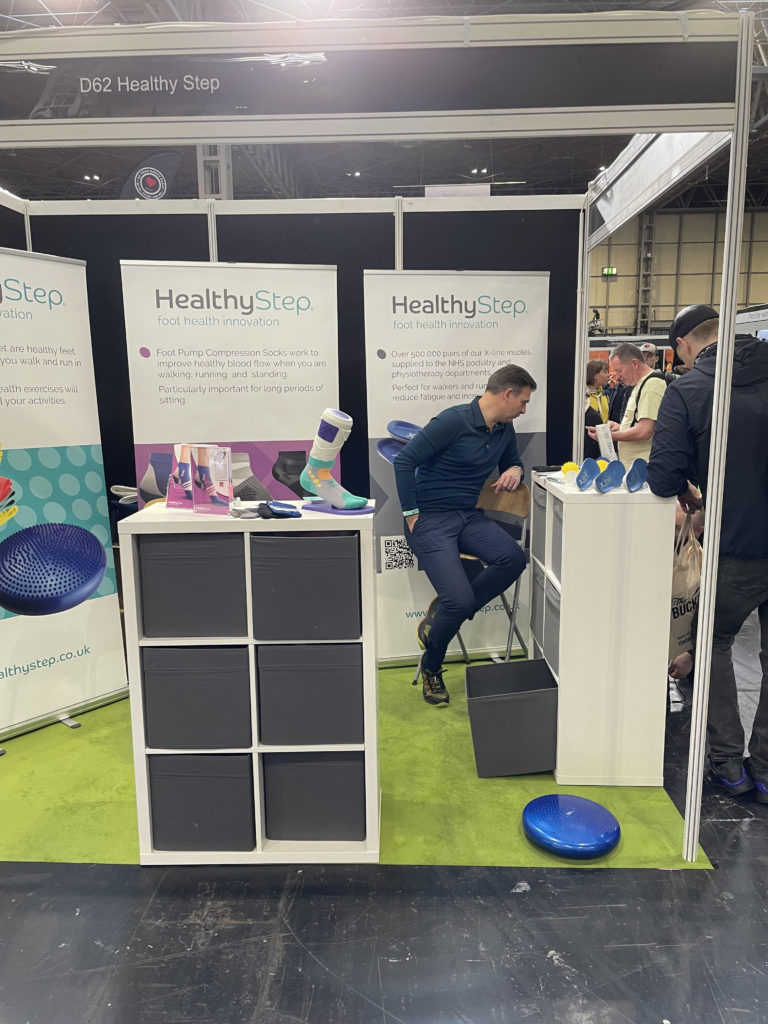 After a two year gap in attending exhibitions Healthy Step was delighted to attend the Outdoor EXPO at the NEC in Birmingham to talk to a whole new audience about our foot comfort range of products
March 19th & 20th saw Healthy Step demonstrating its products to a whole new audience and engaging with walkers, hikers and everyone that loves spending time in the great outdoors.
Thai is the first time this EXPO has been held and the level of interest in our insoles took us a bit by surprise. So many active members of the public came up to us and told us they "pronate a bit" have "flat feet" or "fallen arches" and generally experience minor foot aches and pains particularly when trying to enjoy those longer walks and hikes.
We put our XLine RIF and Pressure Perfect insoles on the floor and asked them to stand on them and give them a try and see if they felt more comfortable on our insoles than they do on the ones in the shoes they were wearing. The answer was "YES". The reason was undeniably that the majority of trainer and boot insoles are made to a price and have little or no contoured support. Many of our visitors chose to buy a pair on the spot and left their current insoles in the bin at the NEC – our apologies to the NEC for that!
Many of our visitors were amazed at how a firm contoured insole like the XLine RIF can be so comfortable but were interested to learn that cradling the heel and supporting the mid-foot in all 3 dimensions leads to much improved foot function, which in turn gives instant comfort and reduces fatigue when walking. Your feet are natural shock absorbers so there is no need to put soft squidgy insoles underneath them – if anything it will cause fatigue as you have to work harder as you would when walking in sand. The XLine RIF's slim profile means it will easily fit into walking boots/shoes and trainers to replace the existing insole.
The aging process can take its toll on our feet and certain conditions like Plantar Fasciitis require a slightly softer approach; that's where Pressure Perfect insoles were a hit with our visitors. The softer, more shock absorbent Pressure Perfect aims to replace that reduced fat pad and enable you to return to longer walks in greater comfort.
Healthy Step always aims to keep you active and comfortable so you can enjoy your days out on the trails and having supplied over 500,000 pairs into the NHS and healthcare markets you can trust our unique designs as much as our clinical partners have for over 20 years.
Sign up to receive our newsletter and special offers